Giving women a second chance
Despite some progress in the participation of women in education at the global level, there remains an acute gap in the provision of adult learning and education for women affected by crisis and gender, economic and racial inequality.
The Second Chance Education (SCE) programme (2018–2023) supports women from indigenous, refugee, displaced and low-income groups who have missed out on education and are at risk of being left behind. It provides them with a second chance to access learning and training opportunities and find pathways to empowerment. 
The SCE programme is being piloted in Australia, Cameroon, Chile, India, Jordan and Mexico, reaching over 113,000 women by June 2023.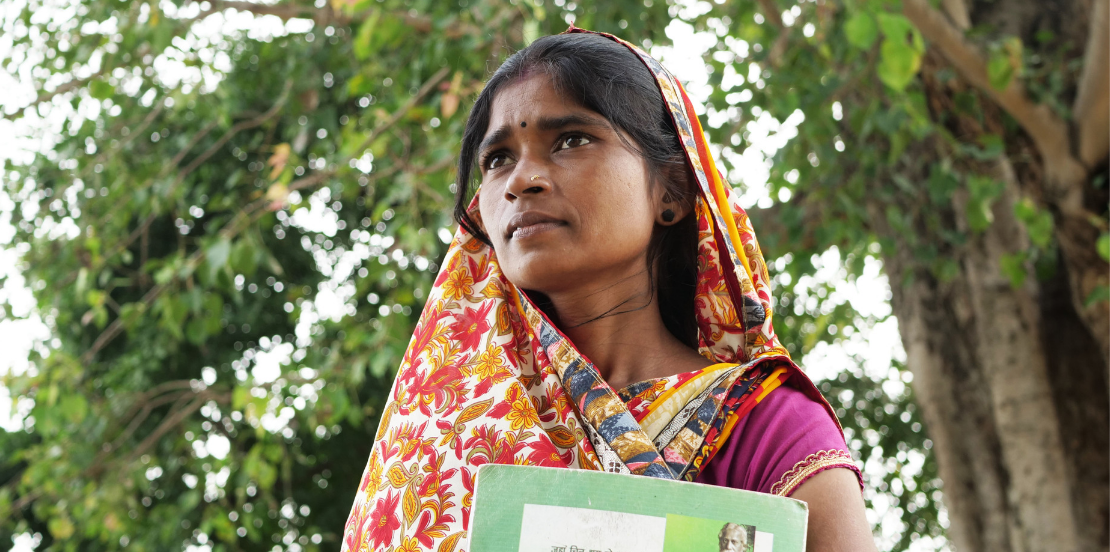 Through local organisations, the SCE programme gives women support that is tailored to their needs as learners and earners. It helps women get back into formal education, offers face-to-face training in practical skills and entrepreneurship, and provides support for independent learning.
The issue
Millions of women whose education has been cut short by humanitarian crisis, poverty, early marriage or pregnancy, and discriminatory norms continue to miss out, unable to pursue their professional and personal aspirations.
Despite increasing recognition of the value of adult learning and education, investment remains insufficient and participation is lowest among those who have not had the benefit of education in their childhood. Marginalized women are being left behind.
Further, investment in adult education and learning has limited impact unless accompanied by efforts to break down the barriers that prevent women accessing it.
In particular, discriminatory norms sideline women from entering the digital world to learn online. Women who are excluded from the digital world cannot access opportunities for online learning nor the other benefits of digital inclusion.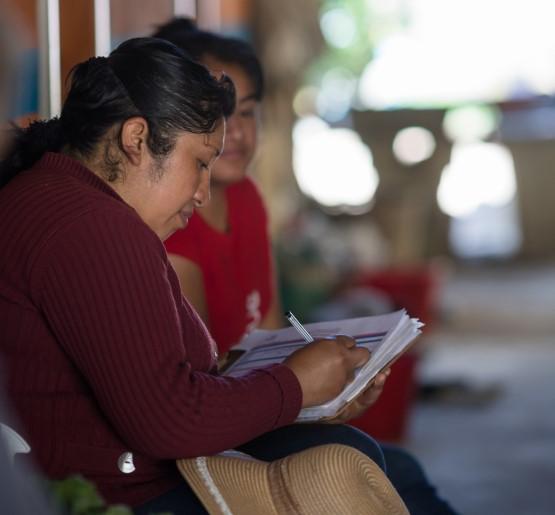 Our solution
The SCE programme was created to fill the learning and support gaps for women who have missed out.
Over the pilot phase from 2019 to 2023, implementing organizations in the pilot countries have worked within a shared theory of change to establish a common framework that can be applied across multiple contexts. The framework is represented by SCE's signature features, shown in the image. 
See the SCE Signature Features brochure in UN Women's digital library for more information.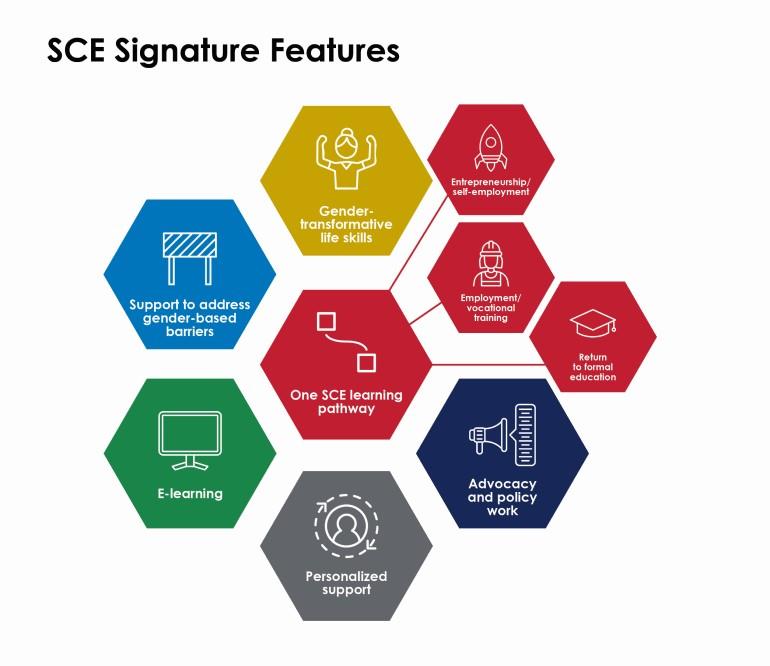 Our impact
By June 2023, over 53,000 women had graduated from the programme, with over 34,000 earning an income. The majority of these (58%) earn through self-employment or entrepreneurship, with 42% earning income through employment.  
In addition to the employment, entrepreneurship and return to education pathways, all participants benefit from the gender-transformative life skills component, which for many women has a life-changing impact. It enables them to develop self-confidence, their sense of agency and aspirations aligned with their interests, skills and circumstances.
Crucially, SCE has introduced tens of thousands of women to online learning and the digital world for the first time, with over 40,000 online registrants by June 2023.
Nearly 328,000 people are estimated to have benefited from the programme indirectly as members of an SCE participant's household.